InstaCasa Mailout Number 4 - May 30, 2020
Vilcabamba - Real-Estate & Rentals Market
A Summary by Nick Vasey, of InstaCasa Real Estate.
It seems many folks right now are curious about the current state of play in the local real-estate market.

This article aims to satisfy that curiosity, and provide answers to the most common questions thereto.
Please note, this article pertains only to the real-estate market in Vilcabamba and its nearby surrounding valleys.
Prior to (or after) reading this article, the reader would be well-served by reviewing the comprehensive article (Death by Government) I penned a few years ago, about the decade of Rafael Correa:
I would also recommend the last two subscriber-mailouts (specifically pertaining to Vilcabamba real-estate) from our company InstaCasa, available here (most recent at top):

For those genuinely interested in the overarching context of how Ecuador (and therefore Vilcabamba) arrived at its current inglorious position, as well as for more context and detail overall regarding both Ecuador (and Vilcabamba specifically) ... there is no substitute for perusing that material.
Okay ... onwards!
1. What are the prevailing conditions right now, in the Vilcabamba real-estate market?
Well, due to a variety of (mostly government-inflicted) policy-failures in the latter half of the decade of Correa (and also at a municipal level here in Loja) ... the profile of Ecuador generally (and the results in Vilcabamba specifically) became extremely tarnished ... coming significantly down from the robust and healthy bull-market which existed in the years 2008 to 2012. From late 2013, the worm turned, and the inexorable slide into the abyss began.

Moreno followed Correa into power in 2017, and since taking office did absolutely nothing to reverse the slide into the scary economic abyss which Correa caused in the first place. Moreno is ideologically blinkered, the opposite of visionary, has recently thrown off most of his responsibilities, and his approval rating is at an all-time low of around 14% (down from over 70% when he took office).

The result is that in nearly 12 years of licensed real-estate operation here in Vilcabamba ... it has never been as much of a "buyers' market" as it is right now. As I note in one of the previous mailouts however, there is always "crisis in opportunity" ... and for those who wish to take a gamble on things playing out positively (generally speaking) here in Ecuador over the longer term (and who have the ready cash) ... there is unlikely to be a time where you'll get better "bang for your buck" in terms of value.

Right now, for reasons stated above (as well as the more recent plunge in oil prices, followed by the death-blow of the CoronaVirus) ... there are plenty of sellers and very few buyers. Vendors need to be cognisant of this reality, and will need to price their properties very competitively in order to get a sale.

Needless to say, given the overall outlook, I think the Vilcabamba property market is likely to stay in this hole for the forseeable future. The only way that doesn't happen, is if things get so dire in developed regions like the US and Europe ... that Ecuador (as a dollarised South American country) STILL manages to look appealing for those folks ... as a place to escape to.
2. Can property transactions actually happen right now?
In a word, no. But having said that, once the restrictions on movement are eased/lifted (as they continue to be) ... all the preparatory scouting and most of the necessary due-diligence CAN be undertaken, such that both buyer and seller find themselves in a state of transactional "readiness" at the moment the necessary bureaucratic wheels DO start turning in the Loja Municipio. I should remind people there are a PLETHORA of things which need to be taken into consideration for real-estate transactions to proceed well here (even under "normal" circumstances - let alone right now), and in this respect the advice and assistance of a well-credentialed reputable and LICENSED realtor ... is basically irreplaceable.

Click here for InstaCasa's client testimonials
Click here for InstaCasa's 34 five-star Google-Business reviews: 
3. What about rentals? Are there rental-properties available? What's the rental market like?
The Vilcabamba rental-market is more or less okay, albeit with a dearth of potential tenants right now due to an almost complete travel shutdown. It has also been hit and affected negatively over time because of the general downward spiral Ecuador (and Vilcabamba particularly) has suffered. However, this has to a degree been offset by the uncertainty of people regarding the (purchase/sale) market ... who've instead decided to rent for the time being and just "sit tight to see what happens," so to speak. Just to be clear, we at InstaCasa do not normally tend to deal much with the Vilcabamba rental-market (except for properties we are managing for clients). The best way to check out rental properties is to list your requirements in the various Vilcabamba Facebook groups, while also scanning those groups for their rental postings. Those seeking mid to longer-term rentals would also do well to check in with Tara Walker of Tierras Realty ... she seems to be doing a decent job of matching prospective tenants to their new landlords in and around Vilcabamba.
Closing comments.
Like the rest of the world, Vilcabamba is entering a period of radical uncertainty. The country is, once again, a tinderbox balancing on a knife-edge ... a mix of metaphors which is about perfect. As I wrote in one of the online groups a couple of weeks ago ... Ecuador is in all sorts of trouble ... a veritable Perfect Storm.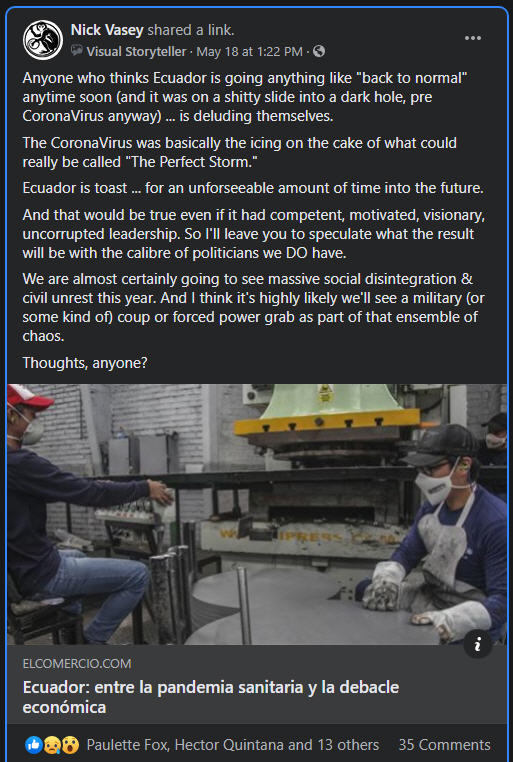 Since then, only five days later, my prediction about a power-grab/shift was vindicated, with Moreno (voluntarily?) - and potentially illegally - relinquishing a large portion of his Presidential responsibilities. To say this has not gone over well ... would be a serious understatement.

In short, Ecuador has tons of (ever-increasing!) international debt which is completely unpayable, no prospects whatsoever economically, a government completely broken by corruption and stupidity, and an increasingly starving and desperate population who are sick to death of this authoritarian government and the corruption and unnecessary pain it continues to inflict on its citizens.
Those are the facts ... the reader can make of them what they will.
Myself and my business partner Santiago Rodriguez are available for consultations on any and all matters relating to Vilcabamba real-estate, construction, and modular-homes. We hope to see you soon.

Best wishes to all ... during these difficult times.
Nick Vasey
Founder - InstaCasa Ecuador
+593 9 8611 9909